Experienced Representation from a North Carolina Slip and Fall Lawyer
If you or a loved one have endured an injury as the result of dangerous conditions on someone else's property, reach out to a North Carolina slip and fall lawyer to discuss compensation. With the experience and advocacy of Attorney Harry H. Albritton, Jr., you can feel confident that your case is in excellent hands and that he will fight to get you the compensation you deserve for your pain and suffering. We only accept fees after we have helped you secure compensation.   
Slip and Fall Accidents Explained
Whether you're visiting someone's home, a business, or on someone's land, there is a reasonable expectation of safety, but they may not properly meet the reasonable standard of safety and care for visitors to their premises. If you have been injured due to unsafe conditions on someone's property, whether residential, municipal, or commercial, the person or organization responsible may be liable for damages.  
Understanding Premises Liability Law
For clarity, a slip and fall accident is a specific type of claim within the category of premises liability. Under North Carolina premises liability law, the occupier or owner of a property is responsible for maintaining the premises in a way to ensure it's free of conditions that may cause harm or injury to visitors. This is referred to as duty of care, and an example can include warning people of a dog that may bite if someone comes on the property to read a meter or taking care to keep walkways safe and clear in order for delivery workers to drop off packages. 
Failure to inspect the premises does not count as a defense to liability. The occupier or owner can be held liable for any hazard which they knew about or also should have reasonably known of if they inspected the premises on a regular basis. 
Common Occurrences of Slip and Fall Accidents
While a slip and fall injury can happen anywhere, the most common locations for them include: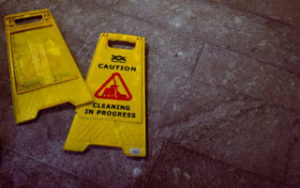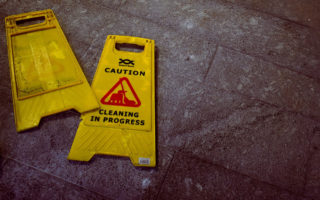 Grocery and retail stores 

Restaurants

Public restrooms where water has splashed on the floor;

Entryways and stairwells of office buildings and multi-family dwellings;

Construction sites

Sidewalks, walkways, and driveways of private residences;
Victims often suffer broken bones, sprains, spinal cord injuries, or even traumatic brain injuries that can lead to expensive medical bills, lost wages, and ongoing disability.
Why You Need a North Carolina Slip and Fall Lawyer
If you've been injured due to slipping or tripping, having an experienced attorney on your side is key to negotiating with insurance companies and helping you secure compensation. Attorney Harry H. Albritton Jr. has worked with a wide variety of clients and has a track record for success, including: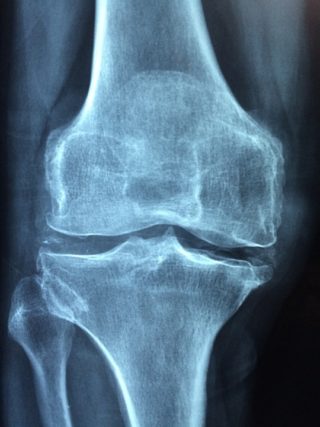 $225,500 to a woman whose hip was injured after tripping over a poorly design display while she was at a large retail store

$115,000 s

ettlement for a woman who slipped on water outside a bathroom in a restaurant

$77,500 to a client who fell out of her wheelchair while she was descending a ramp that was not in proper compliance with the building codes

$50,000 to an elderly woman who slipped on water that was coming from a leaky ice machine in a chain restaurant
Contact a North Carolina Slip and Fall Lawyer Today
If you've been injured from slipping or tripping and falling due to negligence on someone else's property, we can help. Irons & Irons P.A. accepts  slip and fall personal injury cases in Charlotte, Raleigh, Greenville, Wilmington, Asheville, Winston-Salem, and the entire state of North Carolina. Call (252) 215-3000 or fill out the contact form to set up a consultation about your case. 
Contact Form
We would love to hear from you! Please fill out this form and we will get in touch with you shortly.